PATINA is our retail antique/vintage business located in OLD SOUTH ANTIQUE MALL. We have a huge variety of antiques and vintage goodies, from furniture to art to silver to jewelry, and everything in between. We especially love mid-century modern, vintage Italian glass and pottery, American and European silver, nice jewelry (both real and costume), paintings, majolica, and garden-related antiques. We buy almost every day, so there is always a plethora of fresh merchandise. The mall is open daily, and is located on Reeves St., inside of the circle.
To find our items, just ask for Justin's booths, or for dealer PATINA.
.
We will work with dealers and decorators anyway that we can!! Come see us!!
LIKE us on Facebook for all of the latest news and finds!!
go to Facebook.com and search for Patina Antiques Vintage Home...
www.facebook.com/vivaestelleantiquesinteriors
Here are some of our finds!!
SOME OF THESE ITEMS PROBABLY SOLD, so FIND US ON FACEBOOK FOR CURRENT PHOTOS!!!
**Possible free (or very reasonable!) delivery
to the Atlanta area!!
*newly added items will be at the top, and older posts will be at the bottom.
Some of the items may be already sold, but I probably have more similar items, just email me!
(above): always a great selection of "people art", from paintings to busts!
(above): aweseome vintage Henredon credenza, perfect for a flat screen TV!
(above): wonderful LARGE Southern pine primitive cupboard, world globes, porcelain pieces, and a 1940s lion wall fountain.
(above): mid 1800s portrait of a bearded gentleman, with paper in hand, original frame.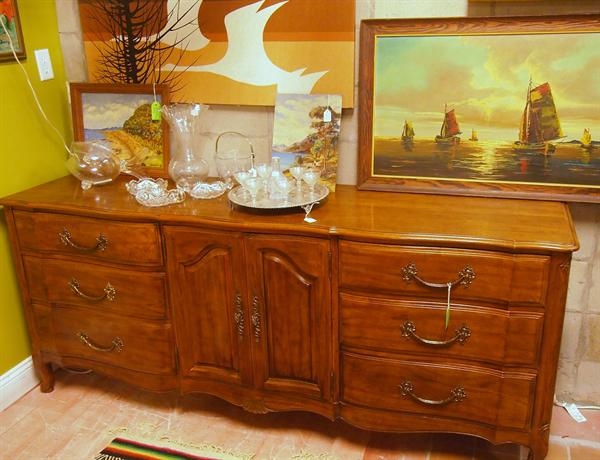 (above): great vintage DAVIS credenza or dresser, perfect for a flat screen TV, original artwork, cut glass pieces.
(above): sampling of Chinese (Nichols) Art Deco Rugs
(above): 1800s marble top turtle table, world globes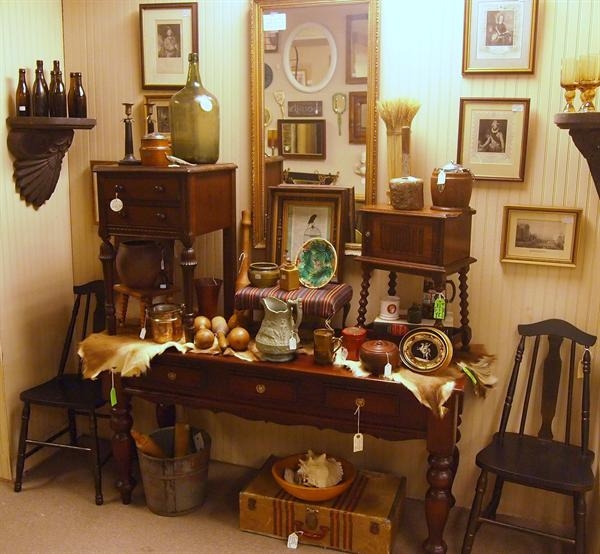 (above): sampling of some of my English and American pieces
from furniture to porcelain.
(above): Just in!! Awesome flat arm side chair (style of Mies van der Rohe), industrial side table, vintage bamboo desk chair and vintage Flokati pillow, midCentury Howard Miller
desk barometer.
(above): some of the MANY globes that I have for sale, always
a great selection in stock!
(above): some of a collection of about 30 original 1940s oil portraits, out of a Georgia arts collectors estate. Portraits include women, men, young and old!
(above): HEAVY French wrought iron garden table, Chinese Export porcelain (20th century), Italian pottery, Frolicking Frogs china, rare red coral, faux Ivory tusks.
(above): awesome 1920s Art Deco LARGE Asian sofa with shelf ends and brass inlay, Chinese Art Deco Nichols rug, Pillow made from Persian rug, large vintage Kwan Yin, Hollywood Regency gold gilt lamps, vintage world globes.
(above): green ceramic foo dog, Persian rug, vintage green sofa, 1940s clam shell back armchair newly recovered in Clarence House fabric, decorative topiaries, vintage luggage on industrial cart, Danish Modern credenza, Italian tole bamboo chandelier, vintage needlepoint pillowes, original 60s oil painting of Borneo Mother, Italian gilt and silver-leaf lotus art, custom made Celadon jade lotus lamps.
(above): vintage Henredon SCENE TWO burled small cabinet, Mexican rug, Agatha Christie book set.
(above): 2 sets of Henredon SCENE TWO burled commodes with removable bookcases.
(above): Portuguese majolica yellow cabbage china and glassware with French serving pieces.
(above): HUGE Italian vase or umbrella stand
(above): set of Iroquois china by Ben Seibel in the Jardinieres pattern.
(above): lovely large Drexel chinoiserie style silverware chest or armoire, Pennsylvania Dutch style side chairs, selection of silver, stemware, and art.
(above): Art Deco tea trolley, midCentury modern ceramics.
(above): studio pottery box, cloud glass, Higgins bowls, 1800s amber blown goblets, espresso set (ruby cut to clear in brass holders, probably Russian).
(above): Danish Modern credenza, wrought iron, 1800s French tea service, taxidermy, 1800s plateau, 1970s large screenprint of geese.
(above) my lastest set-up: "Autumn sunroom".
(above) nice selection of vintage Italian sconces, print, mirror, etc. The custom midCentury sofa and the pair of matching cornices are covered in a Scalamandre Historical Williamsburg floral. The coffee table is English hammered copper. The bronze urn is several hundred years old, Asian.
(above) two of my "Vintage Rejuvenation" projects. The 1940s clam back chair has been recovered in a Clarence House chinoiserie print. The 1940s simple chair has been recovered in gray suede and the arms and legs have been lacquered in SPROUT GREEN.
(above) SOLD Awesome pair of vintage Francois Carre garden chairs,
rare large oval back design!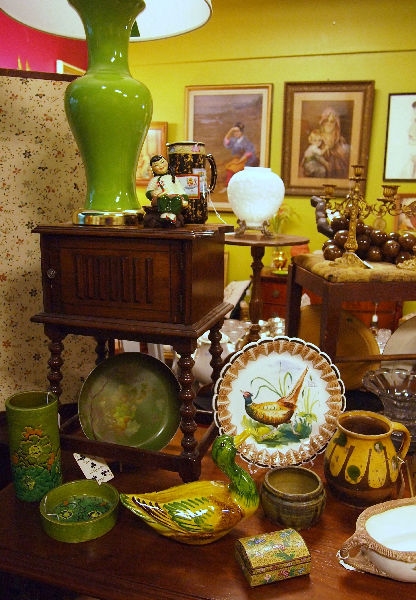 (above) Italian ceramics, tole pieces, pottery
(above) large Brutalist or Jere style chandelier, English metal chandelier,
eyeball pendant lamp, large 70s bird screenprint
(above) vintage clothing and luggage
(above) vintage Italian leather covered bottles
(above) vintage lab glassware, $3 and up!
(above) industrial warehouse cart with built-in step ladder, makes a perfect bar!!
(above) refurbished Woodard style bench with cushion
(above) pair of vintage life-size metal garden bunnies with a GREAT patina!!
(above) luscious gold items!!
(above) pretty pink and purple items including transferware and Victorian glassware!
(above) I'm OBSESSED with art and objects depicting the human form!
(above) Arts and Crafts era desk with hunting/plantation antiques, including a RARE large original oil painting by Alabama artist Claude Peacock.
(above) Portugese vintage figural cabbage tureens
(above) rare Tlaqpaque turkey tureen and redware vessel
(above) HEAVY antique French garden table, blanc de chine Kwan Yin statue, and an Italian side chair (one of a pair) recovered in super expensive Stroheim and Romann fabric.
(above) sweet nest of Italian side tables in the Florentine style
(above) sampling of decorative objects
(above) original landscape oil paintings
(above) Oriental antiquities
(above) RARE clambroth Jade glassware coffee and dessert set
(above) bi-level bimorphic coffee table, with vintage toys
(above) three original European watercolors all dated 1947
(above) chair from a 3 piece suite of vintage Danish Modern furniture, all with original upholstery in EXCELLENT condition. Other pieces are a matching chair and a sofa/daybed combo.
(above) long and low vintage Danish Modern sideboard/credenza

(above) Handmade garden etagere. Made from an 1800s barn door and 1920s green shutters. Complete with barn wood shelves and old tin roof.



(above) Lovely "green" antiques and vintage goodies!



(above) Italian and English antiquities!



(above) More Spring-time antiques!



(above) Shy 1940s concrete garden bather!



(above) LIKE NEW!! Eames era lounge chair with ottoman, laminated wood and putty colored upholstery.



(above) Gothic mantle clocks, selection of rugs, marble top lamp table, gold Buddha statue, abstract art by a well-known Franciscan monk (have two pieces by him).



(above) mid-century painting by New York artist Grace Brody, pair of plantation style plaque paintings of game birds.



(above) vintage bangles in bone, celluloid, bakelite, lucite and plastic!!

The following items were added on 4.11.11:


(above) Vintage Italian pottery dresser boxes!!


(above) Vintage copper and enamel painted dishes!!


(above) studio pottery lion figurine!

(above) 1970s abstract harbor painting!!


(above) Italian amber champagne stems, German china!!



(above) Limoges oyster plate, bust, Victorian taxidermy birds in dome, laquered necklace, Deco lamp, brush washer, fish set, Chinese monochrome charger, always a huge selection of vintage Italian stone fruit.


(above) Nice selection of fine crystal (Waterford, Baccarat, Bohemian, Edinburgh), plus Wedgwood jasperware, Mercury glass, Ivory, bisque, and more!


(above) Fine glassware and crystal, Fenton barber bottle, Nancy France scent bottle, Imari napkin rings, Cybus bust, Ivory, Loetz glassware, air twist tall cordials, Herend shoe.


(above) Rare set of handpainted Turkey plates, Lab paperweight, Chinese Export ducks, rare Japanese bronze koi, pheasant figurines, bakelite bangles.


(above)Python skin box, Japanese shakers, Jade cup, amber beads, Majolica dish, mid-Century bust, selection of bangles, Old Paris dresser box, rare Limoges sardine tray, Ivory mah-jong set, brides basket with rare all white Italian alabaster fruit.